New activity base is opened near Iitate village
Category:, Date:27/04/2015, Reporter:PenaflorCelia
We are going to open a new facility, located north over the hill from Sasu. From Muneo-san's house, it takes 10 minutes by car.
Ryozen Training Center
There is a summer camp facility named Ryozen Center in Ryozen-Machi, Date city. This facility was set up for the children suffering with type 1 diabetes by an NPO who has been dedicated to cure childhood chronic disease.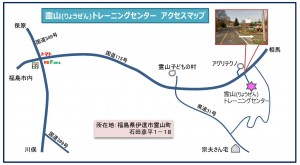 Agreement concluded
Ryozen Center had been utilized by the NPO for 30 years as the summer camp for the children. However, after the nuclear power plant accident, it became difficult to use for the original purpose. Then, we agreed with the NPO to use the facility as the activity base for Resurrection of Fukushima. This is a great privilege for us and also the result that the NPO has strongly sympathized with our objective, revitalization of Fukushima.
To be mobilized from August, 2014
Ryozen Center is a large scale facility that can accommodate 100 children and may be excessive just for lodging our people. It has been in good maintenance and housekeeping, and most importantly, Ryozen Center is located near Iitate village, which will be strongly functionalized as our activity base. We will start preparatory work after the summer vacation and open the facility in the late August, 2014.