WHAT IS "RESURRECTION OF FUKUSHIMA"?
"Resurrection of Fukushima" is a nonprofit organization which aims to rebuild lives and reconstruct agriculture-centered industries that have been affected by the accident at Fukushima Daiichi Nuclear Power Plant.
In June 2011, Yoichi Tao, with other 15 members, visited Iitate Village and deeply sympathized with the victims. They are the ones who evacuated from radiation-contaminated area but still keep strong and unchanged attachment to their original lives and the lands inherited from generation to generation. The voluntary group, "Resurrection of Fukushima", was formed spontaneously for the purpose of reviving their lives and agriculture-centered industries. The activities have started focusing on Iitate Village. In 2012, "Resurrection of Fukushima" became a Specified Nonprofit Corporation by the Tokyo Metropolitan Government with Yoichi Tao as the executive director up to now. Later on, it became an Approved Specified NPO in June 2014.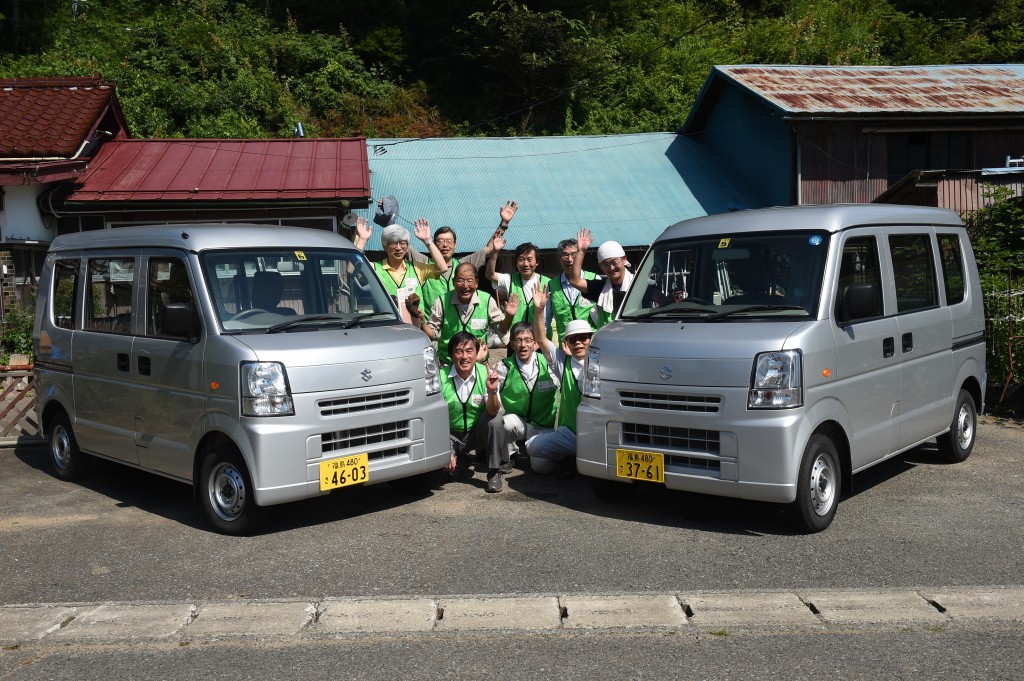 The NPO, who now comprises over 250 independent members and 6 corporate members, has been working towards the revitalization in collaboration with the villagers, experts including universities and research institutes, as well as the local government of the Iitate Village.
"Resurrection of Fukushima" places the center of gravity at the radiation-contaminated area and is working together with the victims on various projects. The NPO is utilizing three bases around Iitate Village, including a farmer house provided by an evacuee.
"Resurrection of Fukushima" is willing to supply the data to the public and related groups, create project proposals, and conduct investigations and experiments as with the use of houses with no residents, farmlands and forests in the revitalization of Fukushima.
Activity Principle
We embody the activity principles:
Work onsite at disaster-stricken areas
Collaborate with the victims of the disaster
Carry out the continuity and sustainability of the activities
We will share the knowledge and information obtained through our activities with the people of Fukushima and the local government, and further widely disclose the results and information gathered through our experiments throughout world, because "Resurrection of Fukushima" believes that this issue is not only that of Fukushima but it is certainly a global issue.
Major Activities
Our major activities are shown below.
Radiation measurement and analysis of radioactivity
Development of decontamination technologies
Pilot projects for the revitalization of agriculture
Pilot projects for the creation of new industries
Care for the victims e.g. Health care for the residents
Disclosure of the information gathered in the area to the rest of the world
Currently radiation measurement is being conducted by Resurrection of Fukushima alongside with the residents of the area.
Administration and Budget
Managed by volunteers and farmers
Funded by membership fees, subsidy, contributions and donations
Became a Specified NPO in July 2012
Became an Approved Specified NPO in July 2014
257 individual members, 6 groups of corporate members (as of January 23, 2015)
In cooperation with research institutes and university laboratories
Officers
President (Representative)

Yoichi TAO

Vice President

Atsuki ONAGA

Director (Representative from Fukushima)

Muneo KANNO

Director

Tadashi OGAWA

Director

Yuzuru MIYOSHI

Director

Akira MASAIKE

Director

Masaru MIZOGUCHI

Director

Yukiko DOKIYA

Director

Fusako NAKAMACHI

Auditor

Katsuhiro YOKOTA

Auditor

Yoshio UNO
Structure and Collaboration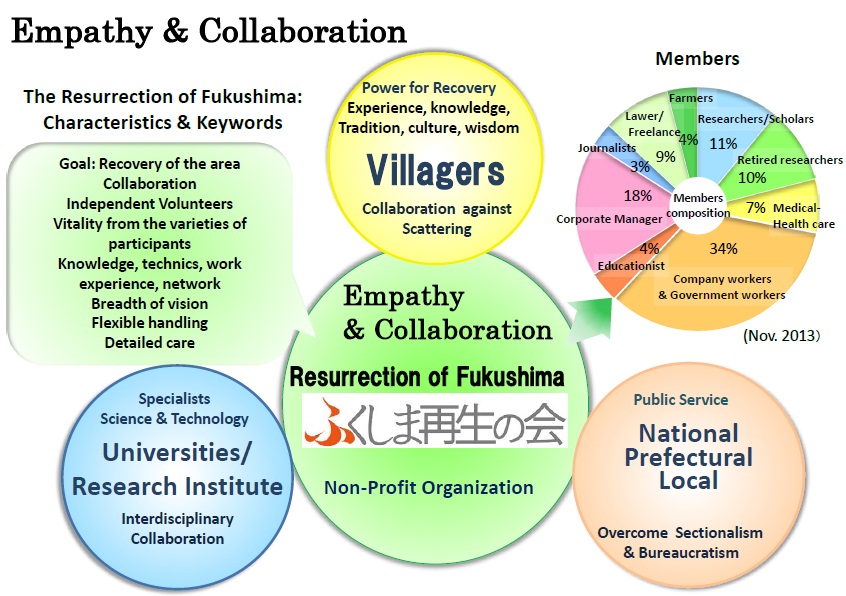 Contact
Resurrection of Fukushima
Tokyo Offce
1-3-6-2F1 , Asagayakita
Suginami-ku, Tokyo, 166-0001, Japan
PHONE: 03-6265-5850
FAX: 03-6265-5859
EMAIL: desk@fukushima-saisei.jp
WEBSITE: http://www.fukushima-saisei.jp/
Links
http://www.fukushima-saisei.jp/en/en-purpose/
https://www.facebook.com/FukushimaSaisei
http://www.youtube.com/user/fukusimasaisei
"Resurrection of Fukushima" is an Approved Specified Nonprofit Corporation, authorized by the Tokyo Metropolitan Government.